Thank you for nourishing the Tree that
symbolizes the enduring value of our community.
You can still help the tree grow! E-mail us at tbi@tbipomona.org.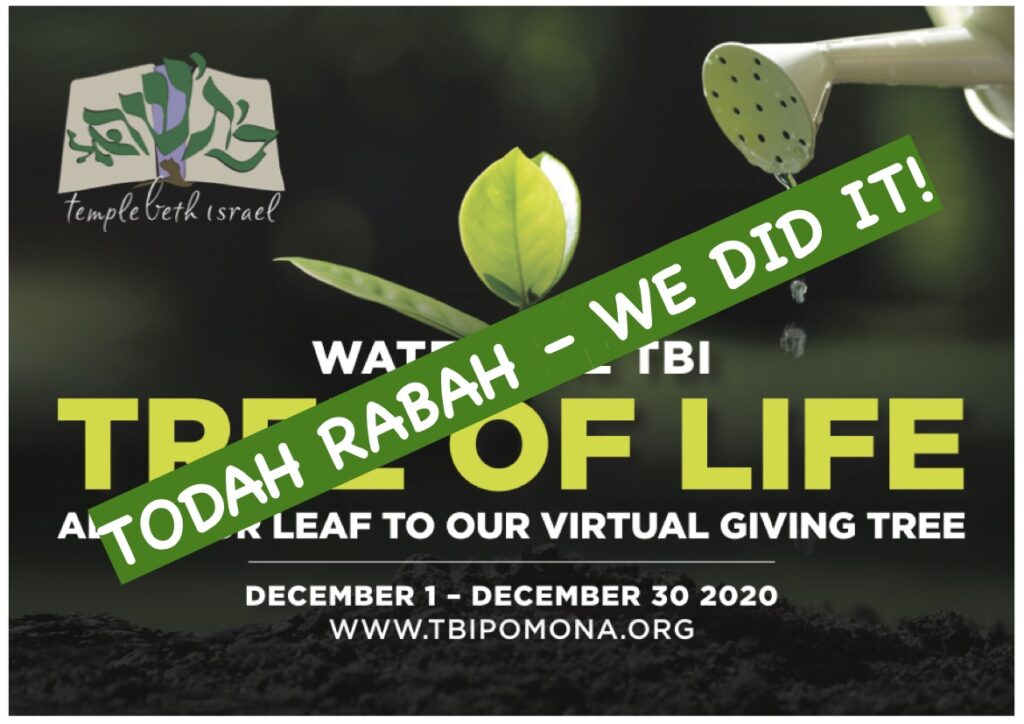 Dear TBI Community,
Todah Rabah! As 2020 has drawn to a close and we welcome 2021, we are overwhelmed by the generosity of our congregants and we are thrilled to share with you that we have met our Giving Tree campaign goal! In fact, we have exceeded it, raising over $45,000 from our members and friends and the total is still climbing!
Every dollar you have donated thoughout the past 10 months, but especially through the Giving Tree effort in December, represents your commitment to sustaining our Jewish community for future generations. Thank you for donating in honor of or in memory of a loved one, thank you for donating at the level you were comfortable with, and thank you for helping support our fundraising efforts throughout this year. This has not only helped Temple Beth Israel make it through this most challenging of years, we can look confidently forward and plan for what lies ahead as the pandemic abates.
We offer special thanks to congregants Janell and Randall Lewis for their matching grant that doubled every dollar raised toward our initial goal. Their generous matching support helped us achieve a total of over $82,000 at last count.
We appreciate the Board of Trustees for their 100% participation in the Giving Tree campaign, and we offer tremendous gratitude to Phil Mendelson and Jay Eisenberg for their relentless efforts in putting this together. Thanks to Laurie Borer, Renay Marcus, Olivia Gross, Courtney Medina, Jeanine Mann, Deborah Norden, and our numerous outreach team members for their assistance with obtaining prizes, delivering watering cans, and publicizing the Giving Tree. If you were one of the lucky winners in our participant drawing, Phil or Jay will notify you in the next few days.
Thank you again for enabling TBI to continue to be a warm and welcoming Reform synagogue and for supporting us to continue to be of service to the Jewish community as we approach the 90th year since our Temple's humble beginnings in an upstairs hall in downtown Pomona. Our founders are kvelling!
Shabbat Shalom,
Deena Benjamin, President, TBI Board of Trustees
Rabbi Jonathan Kupetz
Phil Mendelson, Ways and Means chairperson
See your leaf (leaves) on the Tree.
CLICK HERE to view full size.