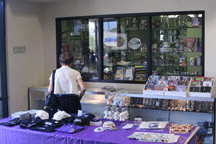 Please stop by and visit the beautifully revamped Judaica Shoppe at TBI for all of your Judaica shopping needs! You will find hand crafted Judaica items as well as items by artists such as Bonnie Roth and Hillery Miller who are well known in the community for their beautiful artwork, custom made tallit, and other magnificent Judaica pieces.
The Judaica Shoppe has been recently restored and revitalized in honor of the Feingold families who gifted the shop to TBI many years ago. We are delighted to continue showcasing our unique items for you all year round.
The Judaica Shoppe is currently open every Sunday from 10 am – 12 pm when Beit Sefer is in session. If you can only shop Monday through Friday, then please call the TBI Office at 909-626-1277 or e-mail the TBI Office to schedule a time to shop between 9 am and 4 pm.