Our Religious School at TBI has joined a new consortium called the Jewish Community School of Los Angeles and is now known as the Jewish Community School @ Temple Beth Israel (JCS@TBI).
Learn more about JCSLA here.  More specific info about JCS@TBI will be coming soon.
JCSLA is under the direction of Rabbi Adam Lutz of Temple Emanuel of Beverly Hills with the strong involvement of Rabbi Kupetz and our Education Committee of the TBI Board of Trustees helping provide direction and oversight.
JCS@TBI welcomes students from the San Gabriel Valley and Inland Empire. Our students represent the changing face of Jewish families and come to us from diverse backgrounds. In our Beit Sefer program, students discover a safe place in which to develop and express their Jewish identities. In addition to learning about Jewish culture and heritage, our students establish Jewish friendships and experience being a part of a Jewish community.

Our PreK, Gan (K) and Alef (1st) grade students come for three hours on Sunday mornings.  In addition to learn the rituals connected with each holiday, their classroom curricula focuses on Midot (Jewish Values), Tzedakah (the Jewish concept for giving to others) and Mitzvot (doing good deeds.)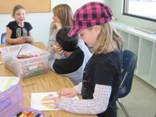 Our Bet (2nd) and Gimmel (3rd) grade students come for three hours on Sunday mornings.  In addition to learning the stories connected to each holiday, they learn Torah, and begin the study of Hebrew phonetic reading.  As they learn about the major figures in Genesis and Exodus, they are invited to express their own ideas and interpretations through art and drama.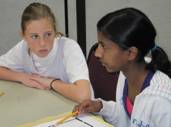 Our Dalet (4th), Heh (5th), Vav (6th) and Zayin (7th) grader students attend two days a week. They come for three hours on Sunday mornings and two hours on Wednesday afternoons they are engaged in Hebrew and other experience online with students from throughout the JCSLA communities. In their Jewish studies classes, they go more in depth into Torah study, the meaning behind the holiday rituals, Jewish lifceycles, peoplehood and Israel.  Our seventh grade studies Jewish identity and the Holocaust. They practice reading Hebrew phonetically, chanting prayers and learning the literal as well as the symbolic meaning of the prayers.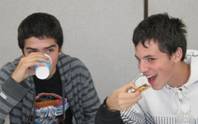 Our post B'nai Mitzvah program invites all students to join our staff as madrichim and continue learning in one of our classes Our teen program starts with a weekly Teen lunch.   Our 8th and 9th graders meet afterwards with Rabbi Kupetz to do community building and investigate Judaism with activities and deep conversation  The Kabbalat Torah class (Confirmation, 10th grade), also meets independently with the Rabbi to learn about Jewish topics and prepare for their confirmation ceremony which is held in June. Our Sichot (11th and 12th graders) meet with the Rabbi as well to continue conversations about the meaning of Judaism in our lives.
Art/Music – All our students (PreK- Zayin and their madrichim) rotate through classes in Jewish music, and Jewish arts and crafts. We have specialists, including our Cantor, who bring Judaism to life for our students through our cultural media.
Reading Buddies – Each older class (Dalet – Zayin) is paired with a younger class (Gan-Dalet). These class meet once a month in the library to read to each other. Our amazing volunteer librarian Debbie Klein keeps a collection that holds the interest of both ages.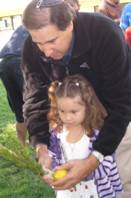 Holiday Celebrations – Foremost, we are a Jewish community that celebrates together. For each of the holidays, Sukkot, Chanukah, Purim and Passover, we have a day with an alternate schedule that gives our students an opportunity to explore and experience the holiday celebrations. Our parents, teachers, midrichim and classes play an active role in creating these community wide celebrations.