CELEBRATE YOUR UNFORGETTABLE MOMENTS

BE PART OF A KEHILLAH KEDOSHAH (HOLY COMMUNITY)

CONNECT WITH ISRAEL FROM A RANGE OF PERSPECTIVES

HONOR YOUR HERITAGE

KEEP THE FLAME BURNING BRIGHTLY

INSPIRE A NEW GENERATION

ENSURE THE JEWISH FUTURE

HEED THE CALL

ENGAGE IN THE REPAIR OF OUR WORLD

ADD YOUR VOICE
WELCOME TO TEMPLE BETH ISRAEL
Temple Beth Israel is a warm, dynamic Reform Synagogue of over 400 families that serves the Pomona and San Gabriel Valleys of Southern California, approx. 35 miles east of downtown Los Angeles. At TBI you will find a community that celebrates Jewish tradition,  kindles spiritual fulfillment, values Jewish study in all its variety, and vigorously participates in social justice.
Please join us!  Jews in all their diversity, including families, singles, couples, interfaith families, the LGBT community, and people with special needs are all welcome at TBI.
Check out our @TBIPomona Facebook Page where you can get the
latest info and view info about our upcoming Shabbat services and other events held online.
Our TBI Preschool is now enrolling for 2020-21.  Info here.
---
TBI Online Events Update
Friday, 7/24
– Family Shabbat Service @ 6:30 p.m. on TBI Facebook page (best for families w/children) 
– Erev Shabbat Service @ 7:30 p.m. on TBI Facebook page.
Saturday, 7/25
– Torah Study, via Zoom, led by Mikey Rhein, 9:30 -11:00 every Saturday morning.  Meeting website is here id:116 994 562, password:332075. Please contact Mikey Rhein if you would like to join the Torah Study, or would just like the commentary and questions that are sent out every Thursday.
–TBI Zoom Siyyum w/Havdalah @ 7:30 p.m.
Sunday, 7/26
Monday, 7/27
– TBI Zoom Siyyum @ 6:45 p.m.
Tuesday, 7/28
– Israel Bookshelf Discussion Group, 7:15 p.m. 
Wednesday, 7/29
– TBI Zoom Siyyum @ 6:45 p.m. 

– Erev Tisha b'Av Observance, 8:00 p.m. on Zoom and TBI Facebook
(Click to enlarge. Zoom link available in TBI Temple Update emails)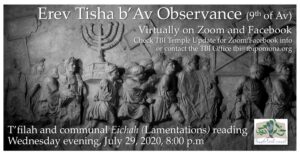 Thursday, 7/30
– Preschool Music w/ Cantor Paul @ 11 a.m. on the TBI Preschool Facebook page
Friday, 7/31
– Family Shabbat Service @ 6:30 p.m. on TBI Facebook page (best for families w/children)
– Erev Shabbat Service @ 7:30 p.m. on TBI Facebook page.
---
Tikkun Olam Virtual Mitzvah Projects: 
With everyone stuck at home right now, you might be seeking an activity to help pass the time and help others. Here is more information about  some wonderful opportunities for individuals or families.

---
Click below to view the July/August 2020 edition of our monthly news magazine "Kehillah"
(Please note that a password is required to view the "Kehillah")


---
TBI WELCOMES NEW ADMINISTRATOR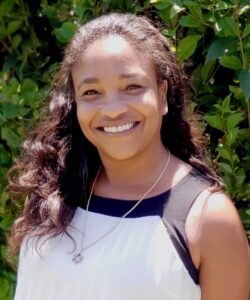 Temple Beth Israel is excited to be welcoming Toyasha Sebbag as our new Administrator. She assumed full responsibilities on July 1, 2020.  Toyasha, a TBI member for 10 years, comes to us with a Master of Public Administration in Public Finance from CSU Fullerton and many years of experience in city government. Most recently she was employed as the Water Administration Manager for the City of Lakewood and, prior to that, as a Management Analyst for the City of Indio. Her background in administration, finance, and community involvement made her a top choice for this important role.
We want to thank our current Administrator, Jim Tanner, for his two years of hard work, generosity, cheerful attitude, and dedication to TBI. We wish him well as he moves on to the next stage of his retirement. Our congregation extends sincere thanks to the Administrator Search Committee, under the leadership of Neil Gerard, for their diligent efforts, especially given the added challenges of the pandemic. There will be (virtual) opportunities for our congregants to meet and welcome Toyasha; we will share that information with you soon.
PLEASE NOTE: We want to remind you that all TBI sponsored interactive online events on ZOOM now require a password in order to participate. This does not affect the opportunity to view Zoom gatherings that we share on our regular or preschool Facebook pages or that are streamed on Facebook directly. In addition, all those calling in on their phones and not using the Zoom app will be asked to identify themselves by a host.  We also now require that anyone joining on Zoom through a computer or app, whether you have activated a camera or not, must identify themselves clearly with their name displayed.  Those wishing to  join Zoom events by cellphone or landline without using an app or program can still do so, but must request password prior to accessing by an email to cantor@tbipomona.org.We look forward to sharing the events above with you and your family. 
Buy Scrip
Did you know that you can support TBI through our Scrip program?  Scrip is available for hundreds of merchants, for things you buy everyday, and it costs you $0 to participate. It's particularly useful in times such as these when we are doing a lot of shopping remotely. We can also  arrange for your scrip to be delivered to you! And, it's great for gift giving too!  Download the form here.  You can also pay for your Scrip online here where you can also make other financial contributions to support our community.