WELCOME TO TEMPLE BETH ISRAEL
Temple Beth Israel is a warm, dynamic Reform Synagogue of over 400 families that serves the Pomona and San Gabriel Valleys of Southern California, approx. 35 miles east of downtown Los Angeles. At TBI you will find a community that celebrates Jewish tradition,  kindles spiritual fulfillment, values Jewish study in all its variety, and vigorously participates in social justice.
Please join us!  Jews in all their diversity, including families, singles, couples, interfaith families, the LGBT community, and people with special needs are all welcome at TBI.
"Nitel Nacht" Is Coming
Join us for our annual "Fiddler on the Roof" sing-a-long at the Laemmle Claremont on the eve of December 24th (a.k.a. Nitel Nacht).  This year's host is TBI's Art Benjamin, and the evening will include lots of fun and prizes.  Call the TBI Office or click the graphic below to get you discounted TBI tickets.  You save $6/ticket and TBI still benefits!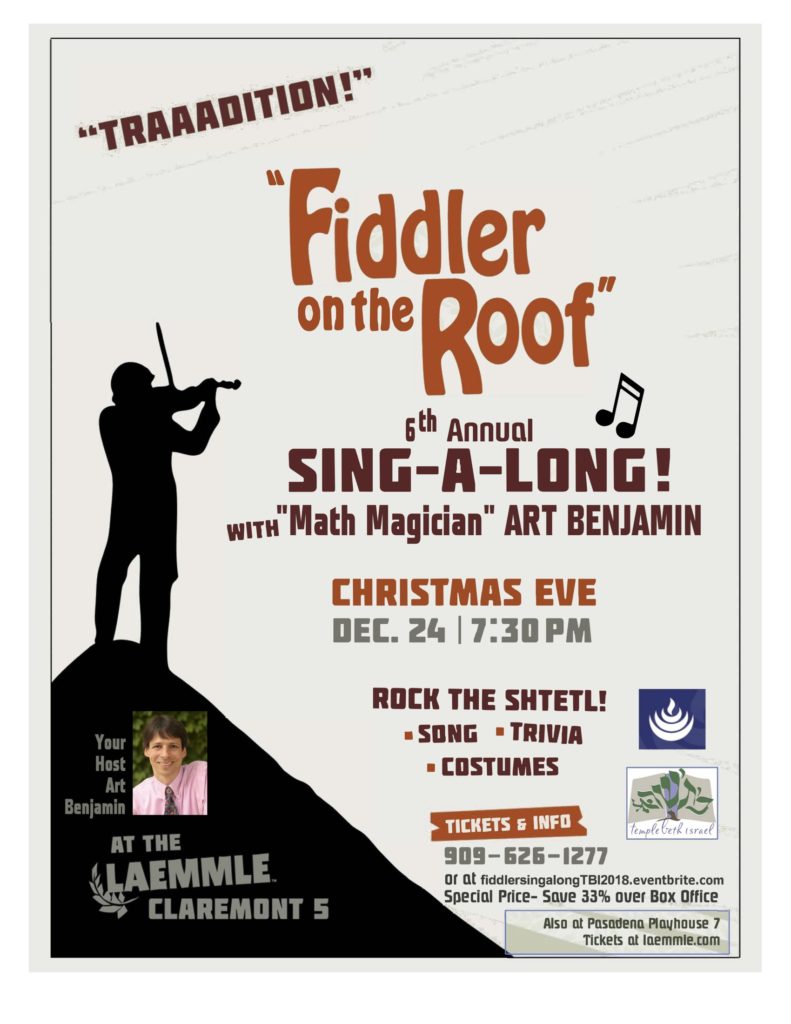 Update on the Recent SoCal Wildfires
As you likely are aware, the recent Woolsley fire inflicted severe damage to Wilshire Blvd Temple's Camps Hess Kramer and Gindling Hilltop, and Camp JCA Shalom, all located in Malibu. As Rabbi Kupetz reminds, "Our Jewish community is strong and resilient, and I am confident that we can find creative ways to continue to inspire the campers, teens and families who have deep roots and affection for these Malibu camps, just as we have following the loss of Camp Newman last October."  As testimony to that resilience, for Summer 2019, Camp Newman is fully operational at their alternative home at Cal Maritime in Vallejo, CA and registration has just opened at campnewman.org. For more info on the Wilshire Blvd. Temple Camps click here.  For info on Camp JCA Shalom and the Shalom Institute, click here.  To help recovery efforts for the camps and communities affected by the fires, click here to support the effort coordinated by our Jewish Federation.
Read the Kehillah
The Kehillah, our monthly news magazine, is now available to view online and/or download. Click the image below to view this month's issue, and you can also then save as a .pdf file, and print all or selected pages.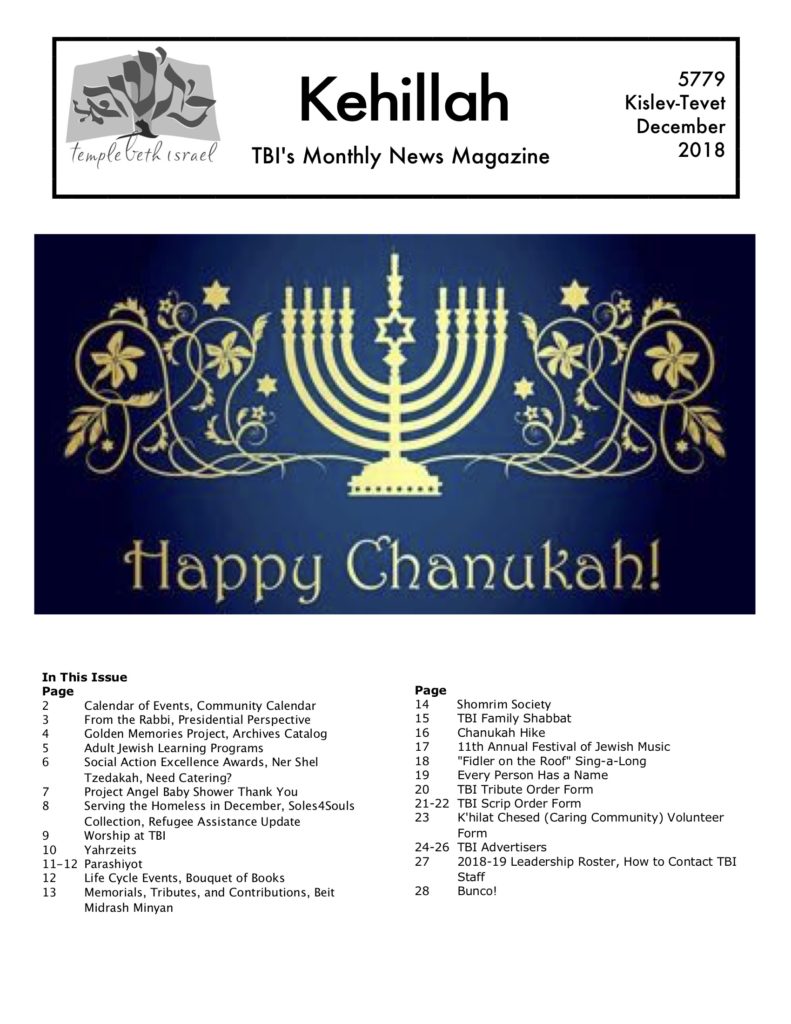 Upcoming Events
View the latest TBI Update (12/4/18) to see info on events coming up soon at TBI. You may receive the TBI Update email directly by sending a request to Temple Beth Israel with your preferred e-mail address.
You can also view the latest Beit Sefer update here.
Adult Jewish Learning
A new Adult Jewish Learning year has begun. Click here to view our classes and events schedule for the 2018/5778 season.
Buy Scrip
Support TBI through our Scrip program.  Scrip is available for hundreds of are merchants, for things you buy everyday, and it costs you $0 to participate. It's also great for gift giving!  Download the form here.  You can also pay for your Scrip online here.
TBI Shoah Scroll Featured in JLife
Just in case you missed it in the print edition, here's a story from the current JLife about our Shoah Torah scroll.
Solidarity Shabbat 11.2.18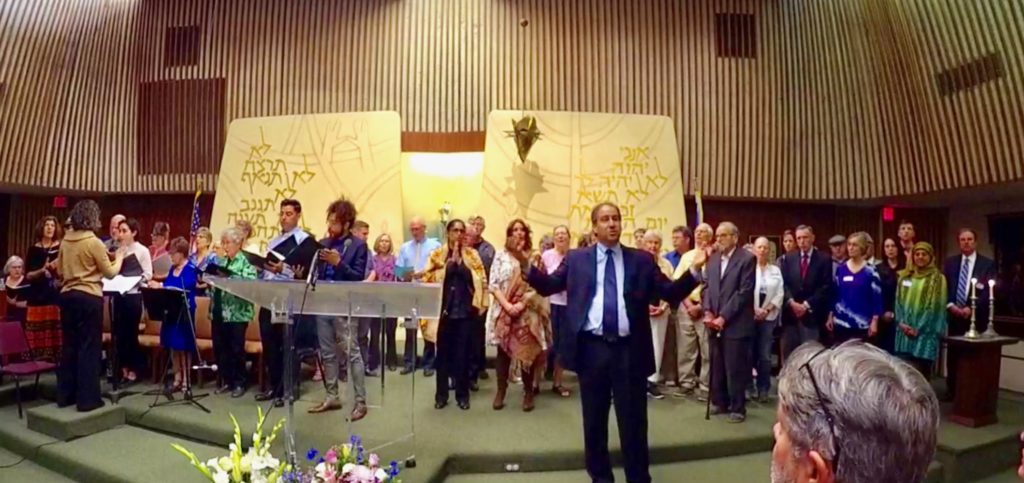 Temple Beth Israel would like to publicly express it's gratitude for the overwhelming show of support our community received on Solidarity Shabbat, Friday evening, November 2, 2018.  The TBI Leadership would also like to recognize that without the volunteer efforts of our members, we could not have handled the large numbers that joined us that evening, an outpouring of concern that far exceeded our expectations.  We are also grateful to our TBI Choir and the community guests that joined them, to our Choral Director Dr. Ruth Charloff, accompanist Dr. Randy Polevoi and to cellist Maggie Parkins for their contributions.  Gratitude is also due to TBI Administrator Jim Tanner and our facilities supervisor Rommi Inabi for their hard work.  To see the press release expressing our gratitude for the support received, click here.  To watch the service as it was streamed live or Facebook, go to facebook.com/tbipomona.  Also, check out the URJ's Jewish Resources for Coping with Acts of Terror.