WELCOME TO TEMPLE BETH ISRAEL
Temple Beth Israel (TBI) is a warm, dynamic Reform Synagogue of over 400 families that serves the Pomona and San Gabriel Valleys of Southern California, approx. 35 miles east of downtown Los Angeles. At TBI you will find a community that celebrates Jewish tradition,  kindles spiritual fulfillment, values Jewish study in all its variety, and vigorously participates in social justice. Please join us!  Jews in all their diversity, including families, singles, couples, interfaith families, the LGBT community, and people with special needs are all welcome at TBI.
View the latest TBI Update to see info on events coming up soon at TBI. You may receive the TBI Update email directly by sending a request to Temple Beth Israel with your preferred e-mail address.
Adult Jewish Learning
A new Adult Jewish Learning year starts soon. Click here to view our classes and events schedule for the 2018/5778 season.  Check out our October highlights below.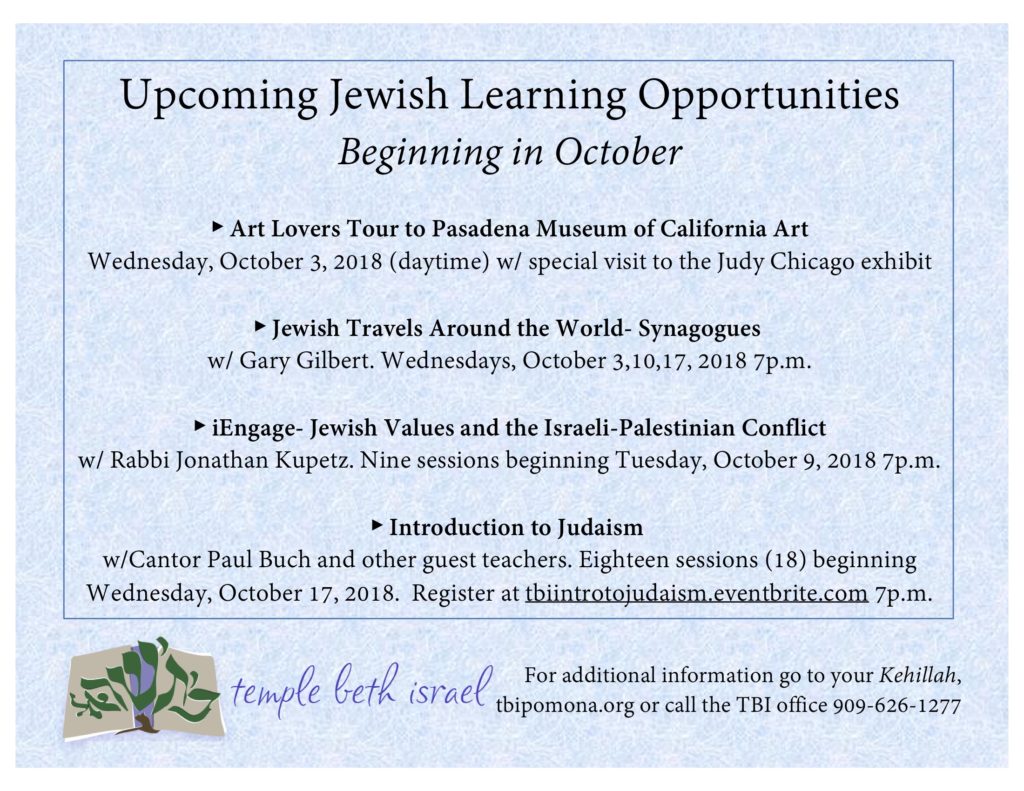 Intro to Judaism Course
A new cohort of our Intro to Judaism course will begin on Wednesday evening, October 17th, taught by Cantor Buch, along with Rabbi Kupetz and Joey Angel-Field, our Rabbinic Intern.  Click here for more info about the class and here to register online.  The 18-week course is free for the first session and $180 for the full 18-week course.
Read the Kehillah
The Kehillah, our monthly news magazine, is now available to view online and/or download. Click the image below to view this month's issue, and you can also then save as a .pdf file, and print all or selected pages.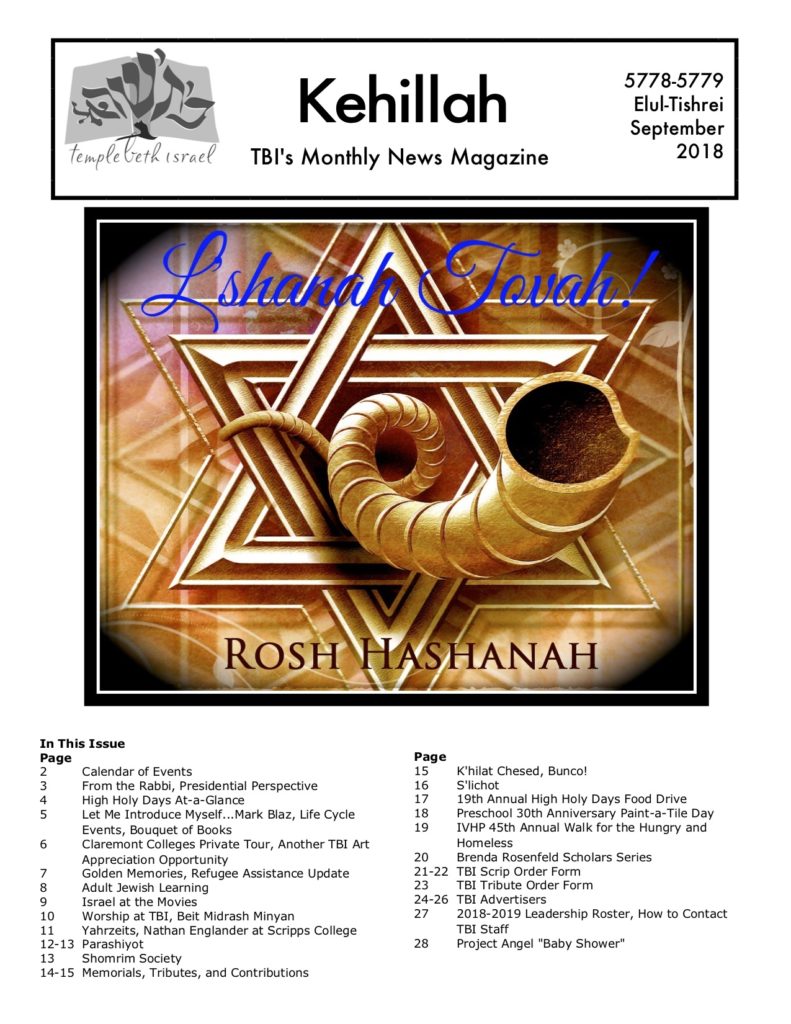 High Holy Days at TBI are an enriching blend of learning, prayer, music, inspiration and fellowship.  We do not offer tickets to those not affiliated with our synagogue (except close family from out of the area), but we welcome first time visitors considering affiliating as our guests for all of our services and events. (If interested, contact our Administrator, Jim Tanner).  All High Holiday Services are also streamed live and archived online on our Facebook Page.  Get our complete Rosh Hashanah through Simchat Torah schedule here. We use the Mishkan Hanefesh Machzor (prayer book) published by the Central Conference of American Rabbis.  Coming up just five (5) days after Yom Kippur, it's Sukkot, our Festival of Booths.