WELCOME TO TEMPLE BETH ISRAEL
Temple Beth Israel is a warm, dynamic Reform Synagogue of over 400 families that serves the Pomona and San Gabriel Valleys of Southern California, approx. 35 miles east of downtown Los Angeles. At TBI you will find a community that celebrates Jewish tradition,  kindles spiritual fulfillment, values Jewish study in all its variety, and vigorously participates in social justice.
Please join us!  Jews in all their diversity, including families, singles, couples, interfaith families, the LGBT community, and people with special needs are all welcome at TBI.
View the latest TBI Update (10/3/19) to see info on events coming up soon at TBI. You may receive the TBI Update email directly by sending a request to Temple Beth Israel with your preferred e-mail address. You can also view the latest Beit Sefer Update from 10/8/19 here.
Check out our @TBIPomona Facebook Page where you can get the latest info and view many of our Shabbat and Holy Day services.  Our page is now featuring photos of the Ralph and Goldy Lewis Golf Tournament that took place on May 14, 2019.
Click here to read a special High Holy Day message from Rabbi Kupetz and Cantor Buch for parents of our school aged children.
New Intro to Judaism Class Begins 10/22
Click below for more info.  View the full Adult Jewish Learning catalog here.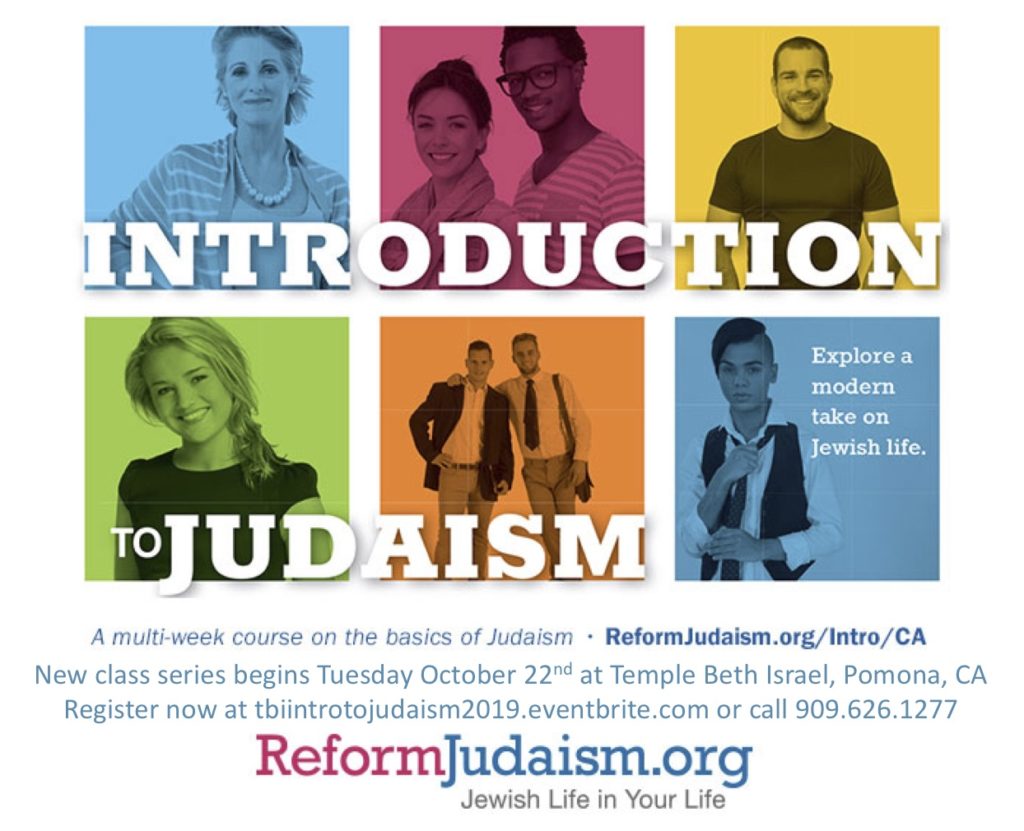 "Torah in Text and Image" Class Begins 10/16
Four sessions, with Professors Tammi Schneider and Gary Gilbert.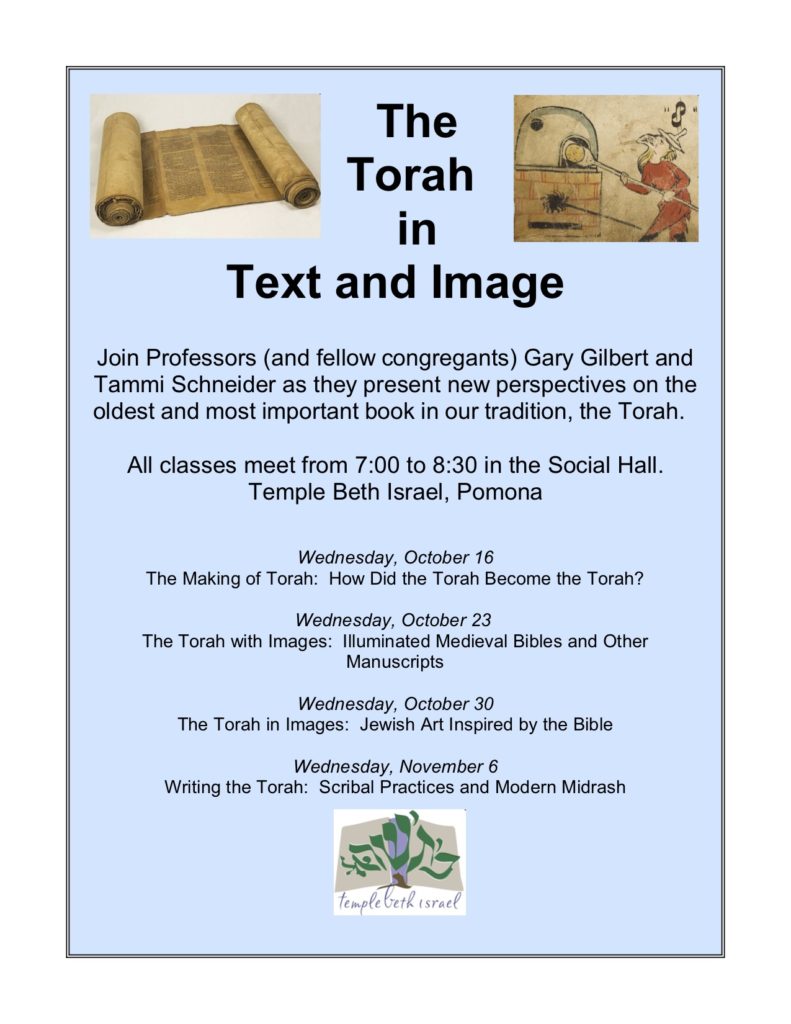 Read the Kehillah
The Kehillah, our monthly news magazine, is now available to view online and/or download. Click on the image below to view this month's issue, and you can also then save as a .pdf file, and print all or selected pages.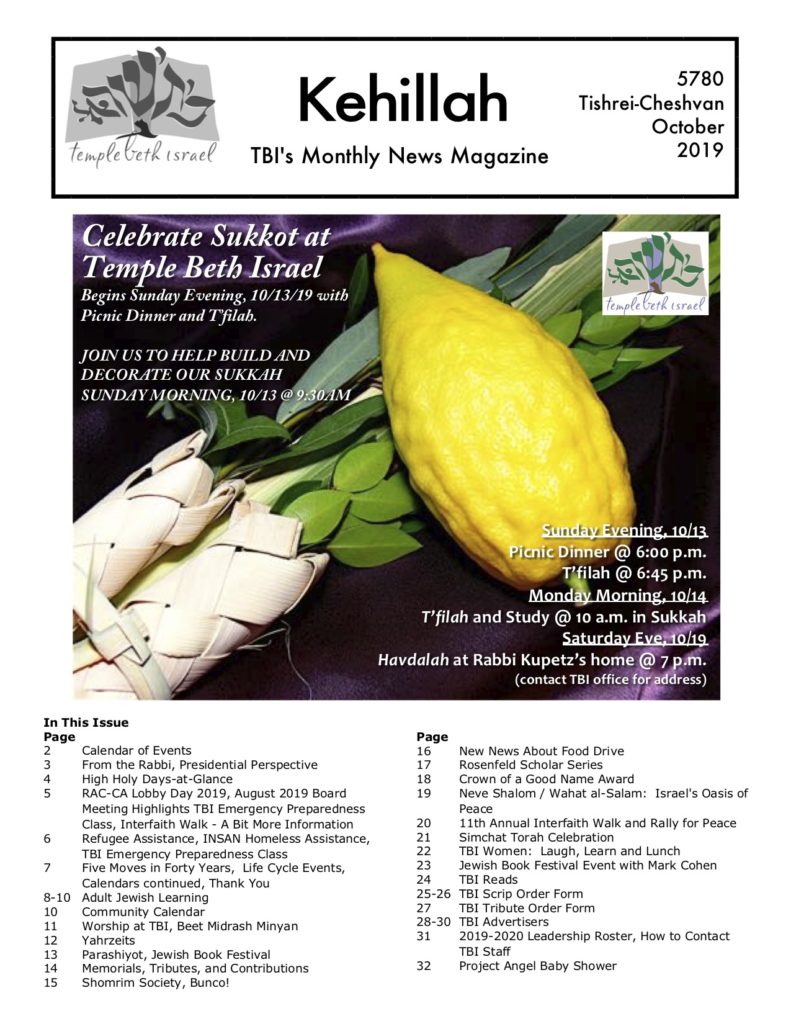 Buy Scrip
Support TBI through our Scrip program.  Scrip is available for hundreds of are merchants, for things you buy everyday, and it costs you $0 to participate. It's also great for gift giving!  Download the form here.  You can also pay for your Scrip online here.
Upcoming Events
Our full High Holy Day schedule, Including Sukkot and Simchat Torah is here.
TBI Joins Annual Interfaith Walk
TBI, led by Rabbi Kupetz and Cantor Buch, is pleased to again participate in and host a stop on the 11th Annual "Interfaith Walk and Rally for Peace," on Sunday October 20th, 2019.  The Walk will conclude this year at TBI with a light dinner and participants are invited to join us afterward for our Simchat Torah celebration.