Rabbi Jonathan Kupetz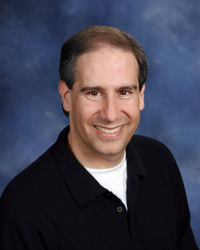 Rabbi Jonathan Kupetz, the youngest of four children, grew up in the west San Fernando Valley and graduated from Calabasas High School and U.C. Santa Cruz. He studied rabbinics and education at Hebrew Union college-Jewish Institute of Religion in Jerusalem, Los Angeles, and New York.
After ordination in 1999, Rabbi Kupetz became a member of the Stephan S. Wise Temple's rabbinical staff where he helped to create and lead diverse opportunities for Jewish engagement. Rabbi Kupetz also served as the coordinator of a Los Angeles area 12-step recovery retreat co-sponsored by Jewish Family Service of Los Angeles.He began his tenure as rabbi of Temple Beth Israel in Pomona on July 1st 2004. He enjoys the warm relationships he is developing with congregants and the many opportunities he has to teach about Jewish life.
Rabbi Kupetz is a strong advocate of Jewish residential summer camps and has sharply increased the participation of TBI youth in Jewish summer camping. He has a passion for Israel where he met Karen, his wife, when they were both studying there during their Junior year of college. They have three children: Sam, Eli, and Abby.
---

Hazzan (Cantor) Paul Buch
Hazzan (Cantor) Paul Buch has served Temple Beth Israel's since 2003 and is a graduate and ordainee of the Academy for Jewish Religion/California in Los Angeles (www.ajrca.org).
Cantor Buch leads music at religious services and life cycle events, teaches liturgy, scriptural chanting and music in our Beit Sefer (religious school) and mentors students preparing for Bar/Bat Mitzvah. He contributes musically throughout our congregation, and his soulful, energetic approach has been described as both "deeply spiritual" and "cheerleading for G-d." He participates regularly in our Adult Jewish Learning program and currently leads our Intro to Judaism course.
Cantor Buch comes to the cantorate after a 25 year career in television and film production in Los Angeles, New York, and Portland, OR which he embarked on after his graduation from Boston University with a degree in journalism. A native of Buffalo, NY, Cantor Buch credits his parents, David and Drena (z"l) with inspiring a love for Judaism and especially Jewish music in him at a very young age.
Motivated by his own upbringing in a diverse religious community, Cantor Buch is deeply engaged with community interfaith activities. He is a past-President of the Claremont Interfaith Council and has served on the Faith-Based Roundtable of the Pomona Unified School District. He is also a past chairperson of the City of Claremont's Human Relations Committee, a member of the Upland Interfaith Council and has served on an advisory committee at the Claremont School of Theology.  He is the immediate past Board Chair of the Rabbis and Cantors Retirement Plan and a former national board member of the clergy organization OHALAH.
Cantor Buch is married to Lisa, an urban planner who is part of the management team for the Foothill Gold Line transit project. They have two sons; Sam, a former madrich in our education program who attends the University of Oregon, and Benjamin, who is now a 11th grader and became Bar Mitzvah in October 2020 (delayed from March 2020 due to COVID-19).
---
Robin McConnell, Director, Tree of Life Children's Center
Please join us in welcoming Robin McConnell as the new director of Tree of Life Children's Center. Robin assumed the reins from our beloved long-time director of the TBI Preschool, Deborah Pruitt, starting on July 1, 2021 following Deborah Pruitt's retirement after 32 years of dedicated service to the TBI community.  In addition to following in Deborah's footsteps, Robin has also managed the transition of our program to a broader focus as the Tree of Life Children's Center.  For more information about the TLCC go to treeoflifepomona.com.
"I am delighted to return to TBI Preschool (now Tree of Life Children's Center) as Director. The six years I was lead teacher were among the most enriching of my career. Carrying Deborah's legacy into the future is an honor and I look forward to welcoming hundreds of families into our Children's Center during the next few years." –Robin McConnell.
---
Barry Weisband, Administrator
Contact Barry at administrator@tbipomona.org